QIH-1000 HP QuintuPlex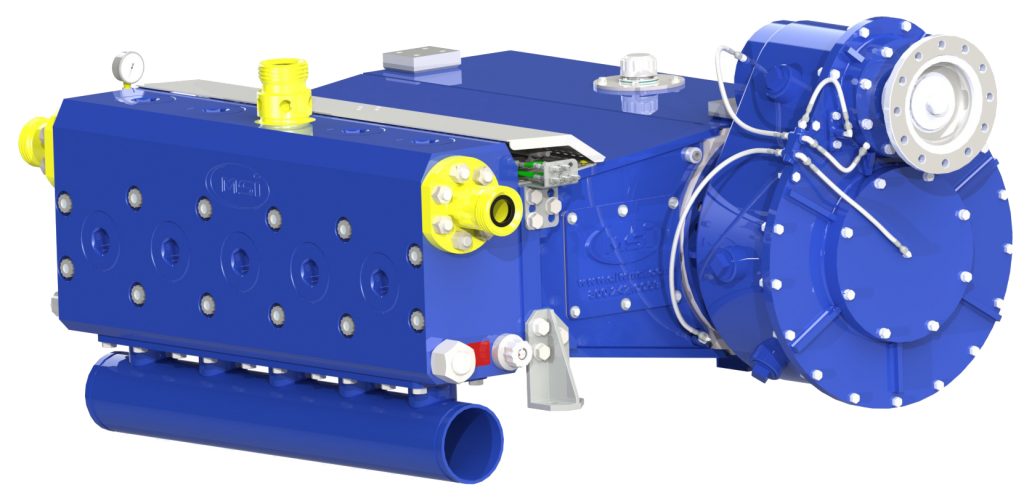 The largest compact style plunger pump, the QIH-1000 well service compact pump. Our 1000 brake horsepower quintuplex plunger pump is suited for acidizing, cementing, gravel packing, coil tubing, frac and well stimulation services. The QIH-1000 is currently the highest horsepower rated pump capable of being mounted in a back to back configuration and staying within standard DOT regulation widths.
The MSI QIH-1000 is equipped with the ON-CENTER CROSSHEAD design which:
Eliminates 6250 ft-lbs of torque about the wrist pin compared to offset design
Lowers crosshead bearing pressure by 30% at the start of stroke
Lowers crosshead bearing pressure by 100% at end of stroke
Allows for installation of pumps back to back within 102″
Reduces friction between crosshead and crosshead guides
Results in low operating lube oil temperatures
Results in high mechanical efficiency
Every new MSI QIH-1000 pump includes higher strength than standard, fully machined from face to shank 1-3/8″ fluid end bolts with rolled threads and a torque indicator installed in the head of the bolt, which provides the end user with the following advantages:
In-service monitoring ability to warn users of premature fatigue or looseness
Ability to tighten bolts to proper torque requirements without a torque wrench
Quick and reliable inspection time of visual gage
Help to prevent expensive down time
The QIH-1000 fluid end can be changed to encompass a wide range of high pressure or high volume requirements
Small fluid end accepts 2 3/4″ and 3″ plunger sizes for high pressures capable of over 2 barrel a minute rates at pressures greater than 16,000 psi.
Large fluid end accepts 3 1/2″ , 4″, and 4 1/2″ plunger sizes for high volume requirements with capable rates of over 13 barrels a minute
All MSI pumps are manufactured under Dixie Iron Works, Ltd ISO 9001 quality program established and certified in 1993.