TIH-600 HP TriPlex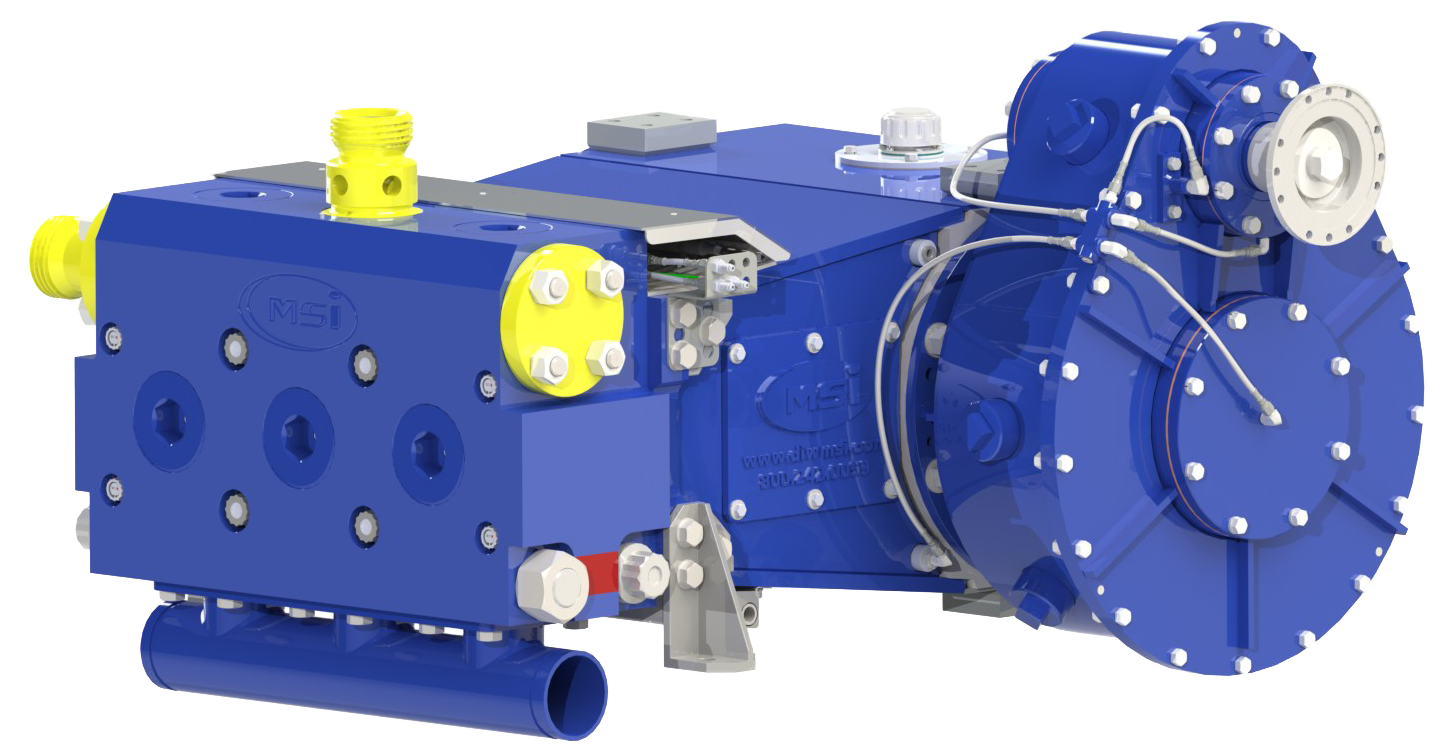 The TIH-600 is a 600 brake horsepower triplex pump that comes with many standard features, but its most important feature is the MSI commitment to Quality.
The MSI TIH-600 Pump is a re-engineered well service pump.  The first compact well service pump to utilize the 2 plunger design which eliminates contamination of the power end.  The MSI Hybrid Triplex Pump is the first and only of it's kind which includes:
16 Position Gear Box for both left and right-hand configurations
2 Fluid End options for either high-pressure or high-volume service
Power Frame designed for added strength and longevity
Tools, toolbox, drip-pan and the suction manifold are standard items with each pump.
Plunger Greasing System can be installed and shipped with the pump for an extra charge.
All external and internal components are phosphate coated for corrosion protection.
The MSI TIH-600 is equipped with the ON-CENTER CROSSHEAD design which:
Eliminates 6250 ft-lbs of torque about the wrist pin compared to offset design
Lowers crosshead bearing pressure by 30% at the start of stroke
Lowers crosshead bearing pressure by 100% at end of stroke
Allows for installation of pumps back to back within 102″
Reduces friction between crosshead and crosshead guides
Results in low operating lube oil temperatures
Results in high mechanical efficiency
Left/Right configuration changes are made easier by the following features in the TIH-600:
Dual lube-pipe system eliminates changes to external lube supply lines.
Bolt-on feet mean removing and reversing crankshaft is no longer required.
Top and bottom flange adapters for changing Oil Breather cap and Oil Drain connection
Fluid Ends can be changed to encompass a wide range of high pressure or high volume requirements.
Small Fluid End accepts 2-3/4 and 3-inch plungers for high pressure service
Large Fluid End accepts 3-1/2, 4, and 4-1/2 plunger sizes for high volume service
The TIH-600 has a footprint of 19 square feet making it ideal for jobs where space is at a premium.
The TIH-600 is suited for acidizing, cementing, gravel packing, coil tubing and well stimulation.
All pumps are manufactured under MSI's ISO 9001 quality program established in 1993.